Contact us
Add: 5 / F, Building 3, Tai Tou Ling (Sanitation), 1112 Cuizhu Road, Luohu District, Shenzhen
Tel: +86-755-25622848
Fax: +86-755-25622848-504
Email: linda@simkeway.com
Product show
Huawei nvr800-a018 road 1-bit network video recorder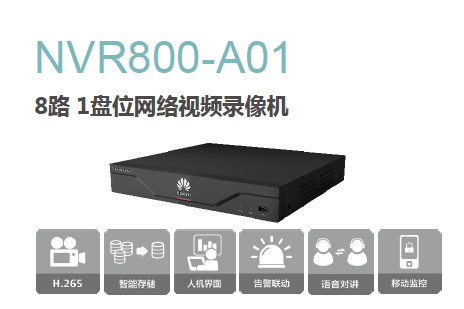 Product Numbers:202041163138
Price:0
Product introduction:Product features High performance and flexible application 8-way network video access, 80Mbps video input bandwidth. Support 1 HDMI and 1 VGA simultaneously output, support 4K hd resolution output; Support 1 SATA interface. H
Huawei nvr800-a0
18 road 1-bit network video recorder
Product features
High performance and flexible application
8-way network video access, 80Mbps video input bandwidth.
Support 1 HDMI and 1 VGA simultaneously output, support 4K hd resolution output;
Support 1 SATA interface.
Huawei SDC can support all-channel AI intelligence: face whitelist access, blacklist control, stranger recognition, face query, intelligent perimeter, repeat analysis, face attendance and other intelligent detection access and linkage.
Support maximum 8 - way synchronous playback and reverse.
Support 4K hd network video preview, storage and playback.
Support USB external data playback.
Support to query video files by time, video type, tag, AI event.
Support hard disk quota and hard disk group two storage modes, can be allocated to each channel different video storage capacity or cycle.Easy to use ewei
Support plug and play, automatic discovery configuration.
Support for h. 265, h. 264 coding front-end adaptive access.
Support huawei cloud protocol access platform and mobile APP.
Support device scanning qr code quick registration access.
Humanized UI operation interface.
Support IPC centralized management, including IPC parameter configuration, information import/export, voice intercom and batch upgrade functions.
Support operation log, system log, alarm log, parameter modification log, video log, intelligent log check, storage log and other functions.Safe and reliable
Support important video file lock protection function.
Embedded Linux operating system, support 7×24 hours of stable operation, and not easy to hackers, viruses and attacks.